Introduction of 400G QSFP DD Products
12-09-2019
With the exponential growth of data traffic demand caused by smartphones, multimedia applications, video streaming media and various connecting devices, the construction of high-capacity and ultra-large-scale data centers has been promoted, aiming at rapidly expanding and responding to such dynamic workloads. In order to meet this demand, most of the ultra-large data centers using 100Gb/s Ethernet link need to be converted to 200Gb/s or even 400Gb/s Ethernet link to achieve higher throughput. In order to meet the market demand, Beijing Zhaolian Technology has recently developed 400G QSFP DD products, as follows:
1, 400Gbps QSFP DD Passive DAC Cable
QSFP-DD (quad small form-factor pluggable double density) doubles the density of QSFP interconnects with an eight-lane electrical interface capable of 28 Gbps NRZ or 56 Gbps PAM-4 to achieve 200 or 400 Gbps aggregate per port. The QSFP-DD portfolio's backwards compatibility allows existing QSFP modules to be plugged into QSFP-DD ports. Our QSFP-DD cages feature a proprietary heat sink design, making them the only solution to work in 15-18W applications at a low cost – providing superior thermal and signal integrity performance.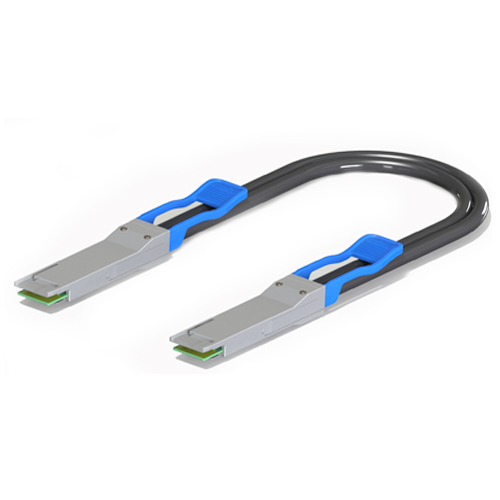 Features:
• Operating case temperature: 0~70C
• Compliant with IEEE 802.3bj/IEEE 802.3cd
• Compliant with QSFP DD MSA
• RoHS compliant

Applications:
• Servers

• Switches
• Routers
• Data centers
• High performance computing
2, 400G QSFP-DD SR8 PAM4 100m Optical Transceiver
400G QSFP-DD SR8 PAM4 100m optical transceiver is designed for 2x200GBASE-SR4 Ethernet links reach up to 70m (OM3) or 100m (OM4) over Multi-Mode Fiber (MMF) with FEC.This high-performance module integrates 8 data lanes in each direction with 8x26.5625GB. Each lane can operate at a data rate up to 53.125Gbps using a nominal wavelength of 850nm. The electrical interface uses a 76-contact edge type connector.The optical interface uses a 24-fiber MTP/MPO connector.Compliant with the Common Management Interface Specification (CMIS) for QSFP-DD modules, the 400G QSFP-DD SR8 transceiver incorporates C-Flink's proven circuit and VCSEL technology to provide reliable long life, high performance and consistent service.
Features:
▪ Hot-pluggable QSFP-DD form factor
▪ 8 channels full-duplex transceiver module
▪ 8x 850nm VCSEL array and PIN photo-detector array
▪ Internal CDR circuits on both receiver and transmitter channels
▪ Compliant with QSFP-DD MSA, IEEE 802.3cd 200GBASE-SR4 and CMIS
▪ Data rate up to 425Gbps (8x PAM4 53Gbps)
▪ Reach up to 70m (OM3) or 100m (OM4) over MMF with FEC
▪ Power consumption<10W
▪ MPO24 receptacle
▪ Built-in digital diagnostic functions
▪ Operating case temperature range from 0 °C to 70 °C
▪ 3.3V power supply voltage
▪ RoHS compliant (lead free)
Applications
▪ 2x 200GBASE-SR4 Ethernet