Congratulations! C-FLINK got CE,ROHS and FCC
31-07-2019
Recently, Huizhou C-FLINK Technology Co., Ltd. obtained the ISO 9001:2015 certificate of international quality certification last year, and has applied for and obtained three certificates of CE, ROHS and FCC. This means that C-flink has taken another important step towards internationalization, standardization and systematization, and its comprehensive competitiveness has been further enhanced.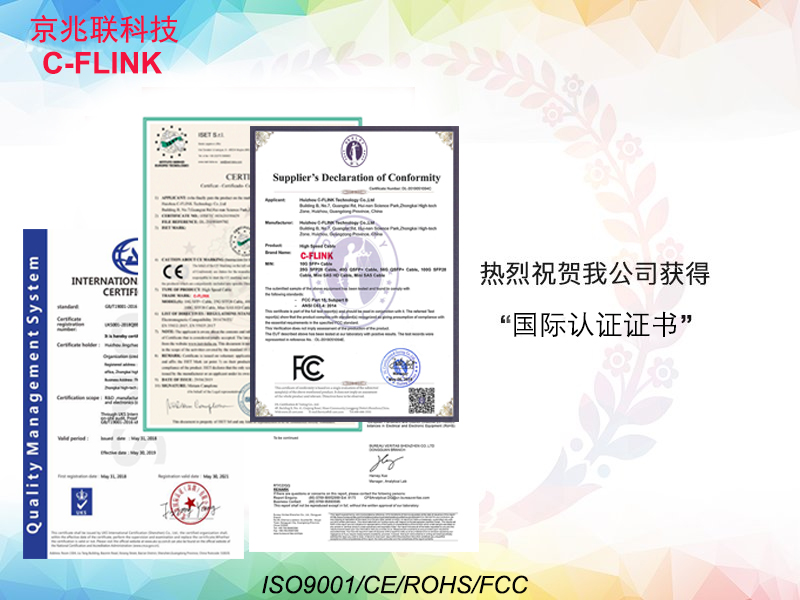 The certification test covers covered by this certification include: 10G DAC and 40G DAC. Our leaders attach great importance to this certification application and participated in the application for this certification. Thank you for your continued attention and support to our company. Huizhou Jingzhao Technology Co., Ltd. will continue to make continuous efforts to meet the needs of more users.
About C-FLINK
C-FLINK was established in 2013. Its production base is located in Huizhou City. The company is composed of a group of high-speed cable development teams with more than 10 years'experience. C-FLINK focuses on high-speed connection and serves large data transmission. It is a company dominated by DAC copper cables, all kinds of AOC products and data cables. For supporting high-tech companies, C-FLINK is a technology-based enterprise integrating design, research, development, production and sales. Its products are widely used in the fields of Ethernet, data center, cloud computing and other data transmission, high-data computer group, smart home, etc. The company upholds the purpose of "professional, honest, high-quality, innovation" to provide ODM and OEM services for customers.